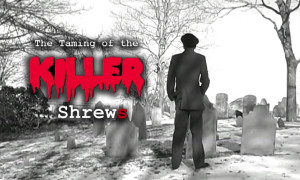 In 1999, Bart and company set out and produced a 30 minute short film, "The Taming of the Killer Shrews".
This short film was based around Ray Kellogg's 1959 Masterpiece "The Killer Shrews", which had fallen into public domain.
Bart's 1999 short film was shot in Charlestown, Rhode Island and starred Lisa Kelly, Jessica Strong, Adam Welling, Guy Hoffman, and Bart Grieb. Produced in 6 days (only on weekends), most of the film was shot on built sets in a building that was being renovated in Westerly, RI. The rest of the film was shot on a beach in charlestown, RI and in Bart's backyard. The actors were all students at the Actors Workshop in Boston, MA.
Three shrew puppets were built out of wire and fake fur. Two full size marionettes and a hand puppet for close ups. (Nobody had dogs to put costumes on)
Everyone shot the film. Responsibilities were delegated to whoever wasn't in the frame. A Shure 58 mic was duct taped to a broom handle and ran straight to a canon GL1 mini dv camcorder.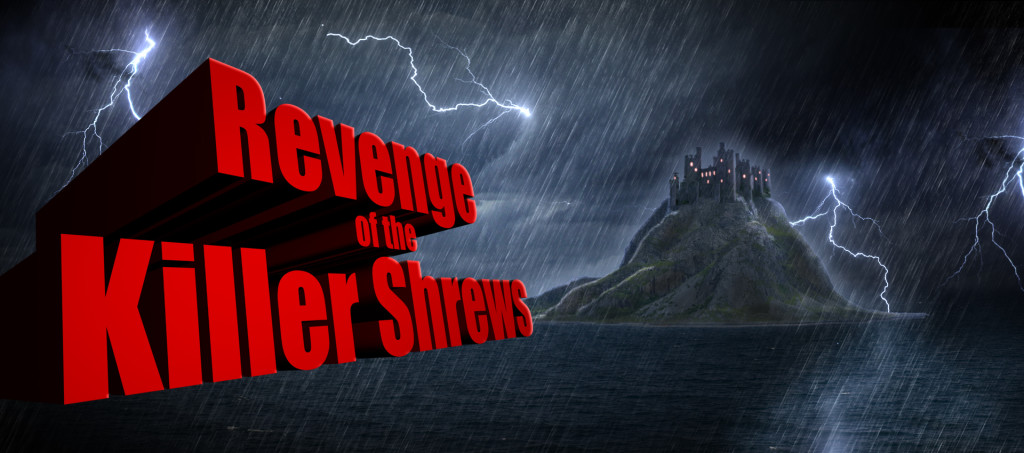 "Revenge of the Killer Shrews" is the long awaited, highly anticipated, feature length sequel to Bart's Short film.
The adventure is loaded with thrilling classic sci-fi and horror elements. There's a scary castle, a talking disembodied head, sword fighting, car chases, explosions, monster killer shrews, and a diabolical Mrs. Dorothy Holland!
The film is to be shot in color, but in the style of cult 1950's b horror films, all while using modern filmmaking technology.
The film takes it's inspiration from such films as "The Killer Shrews", "Tarantula", "Plan 9 From Outer Space", "The House on Haunted Hill", "Invasion of the Body Snatchers", but it's sense of humor is from more modern influences like the Zucker Brother's films, and Mystery Science Theater 3000.
Our goal is to create a retro B horror film mixing old style shooting techniques with a modern tongue in cheek sense of humor that countless comedy and horror fans will enjoy.
Bart's original short film can be viewed in 4 parts on Youtube using the following links.
The original 1959 film, "The Killer Shrews" by Ray Kellogg, can be viewed here in it's original black & white. (Posted by The Public Domain Library.)
Or here in color and amazing stereo sound!